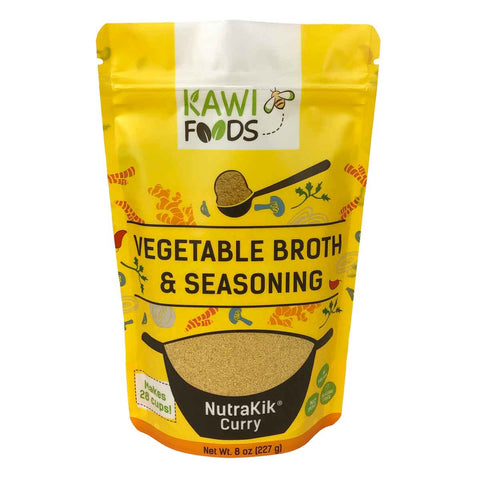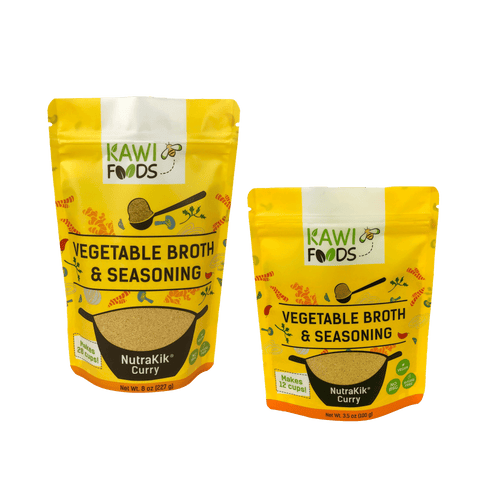 Kawi Foods
NutraKik® Curry
Are you craving Indian food but don't know where to start? Kawi Foods is here to help! Our NutraKik® Curry allows you to create healthy meals with a delicious exotic kik. NutraKik® Curry has less sodium than your average powdered bullion. It is made with 9 spices and has NO MSG, NO sugar, NO oils, no artificial flavors, colors or preservatives. All you need to do is grab your protein, maybe some coconut milk and of course our NutraKik® Curry and voila! The perfect take-out meal but with all the at home flavor!
Ingredients:
Non GMO nutritional yeast, onion, Real Salt® brand sea salt, curry, garlic, ginger, paprika, cumin, cayenne pepper & love.
Love it but problem with my order
I met Christine at a farmers market in SD. I LOVE your products. So ordered some for me and some for my sister in law. I ordered two of smaller curry spices and you sent me one bigger one. Problem is-I was giving smaller one as a gift so I had to give away the bigger one and now I can't try it. While it was nice to combine my orders-but problem was-I had some for me and some as a gift. I think you guys did that on two things I ordered.
Excellent, but would prefer even lower sodium
Haven't cooked with it yet, but right off, I think this is the most delicious powdered broth I've ever made with just water!
My criticism is this... It says less sodium than other broths, but that's only if you go by teaspoon. Here, you are supposed to add a whole tablespoon to 8 oz of water, while most broths only ask for a teaspoon of powder. If you triple the sodium content to account for the tablespoon, it's about the same sodium as other broths per 8 oz of liquid.
Any chance you could come out with a lower sodium or no sodium version?
Great for curry rice
I used it to spice things up in the water where I was cooking white rice. It definitely adds a good kick to the rice!
Perfection!
This is the best curry mix hands down! I don't have the spices on hand to create my own curry seasoning and now I don't need to! It's all in one bag and it's delicious!