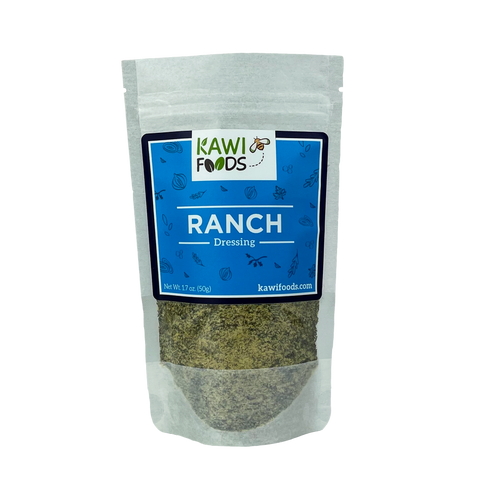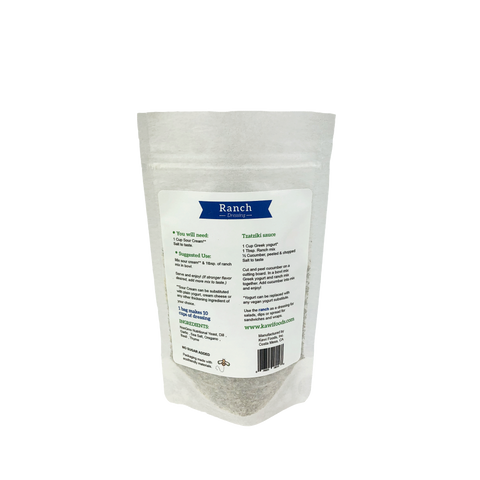 Kawi Foods
Seasoning | Ranch
Have you been searching for a healthier alternative to dip your carrots into? Luckily we have created this delicious Ranch mix that will knock your socks off! Easily mix 1 Tbsp. of Ranch mix with any yogurt, sour cream, vegan mayo or thickening ingredient of your choice. Use it as a dressing for salads, dips or spread for any sandwiches and wraps. Or use the dry herbs to season your chicken, salmon or even on top of popcorn!
Each bag yields 10 cups of Ranch
Ingredients:
NonGmo nutritional yeast, dill, garlic,

Real Salt® sea salt

, oregano, herbs and love
Ranch dressing mix
This is the best mix I've found. It doesn't contain gluten or milk, so it's perfect for my needs. It's a staple in my pantry.
I tried the lemon ranch sauce recipe and loved the flavor! definitely one of my favorites :)
A Game Changer!
Their ranch seasoning is such a game changer when it comes to finding healthy snacking options! It's very flavorful and love to add it to Greek yogurt for dipping!
Great for snacking
I mix the ranch dressing with a small greek yogurt and I deep some carrots, cucumber or celery on it. Easy to prepare and perfect for a quick office snack!
Great Option
My kids are addicted to Ranch dressing and they put it on everything. This is such a healthier option and they love it and I feel good about it!