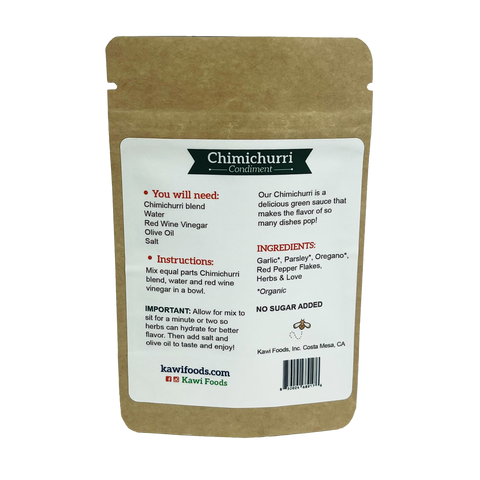 Kawi Foods
Chimichurri on the go!
Add the delicious taste of Chimichurri to your food with our easy-to-use salt free seasoning to go! This single serving packet is perfect as a table condiment, used in cooking, or as a rub. In Argentina, this mix of herbs and spices is combined with oil and vinegar and used as a sauce for grilled meats. You can also use it dry in your tomato sauce, in pasta salad or even on top of pizza!
How to use as a sauce: Put one part mix to 1 part vinegar in a bowl. Allow a few minutes for the mix to hydrate and absorb the vinegar. Add 2 parts oil.
Each Packet is One Single Serving ( 1 Tablespoon )
Ingredients:
Garlic, parsley, oregano, red pepper flakes and love