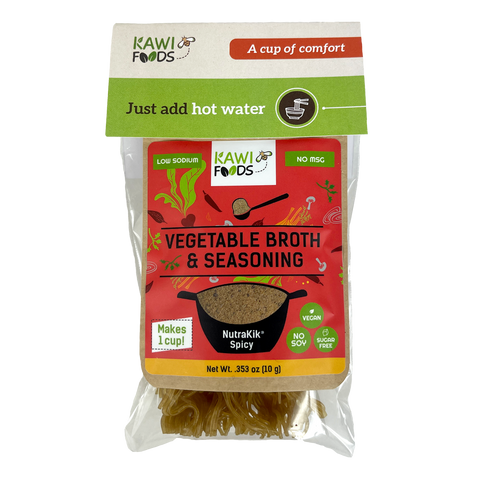 Kawi Foods
NutraKik® Spicy & Ramen
Now you can take Kawi's NutraKik® Spicy on the go! This packet is perfect for when you're looking for a meal with an extra Kik while on the road or wherever life takes you. All you need is some hot water for a savory filling spicy broth with noodles. Add your favorite vegetables or protein and just like that, you have a nutritious meal with a delicious Kik!
Each Seasoning Packet has 2 Servings ( 2 Tablespoons )
Preparation:
Place 2 cups of water and bring to a boil. Add ramen and simmer gently for 4 minutes, stirring occasionally. Remove from heat when noodles are just soft. Stir in the NutraKik® Spicy and serve!
NutraKik ® Spicy Ingredients:
Non-GMO nutritional yeast, onion granules, Real Salt® sea salt, garlic, cayenne pepper, shiitake mushroom, fennel, paprika, red beet, spices & love.
Ramen Ingredients:
Brown rice flour, millet flour